One of the best parts about visiting New Orleans includes experiencing the unique architecture style found nowhere else in the country. Many local establishments offer beautiful French Quarter courtyards, hidden from street view. Bienville House is no exception to this rule, offering a relaxing oasis courtyard in the heart of the bustling French Quarter. Including lush greenery, soothing fountains, and a pristine salt water pool, our courtyard oasis serves as one of our guest's favorite features of our French Quarter hotel.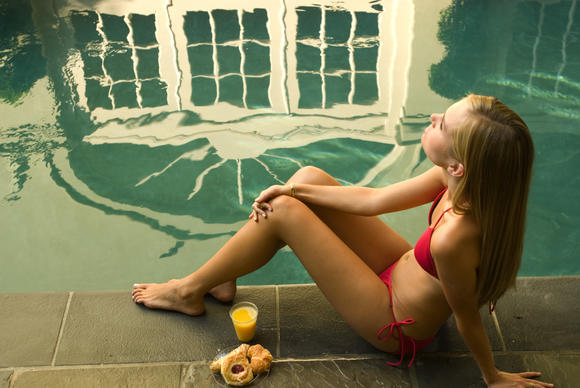 The courtyard lies at the center of the hotel, with many rooms at the Bienville House offering beautiful balconies overlooking the entire area. While the French Quarter can often be loud and busy, you'll find relief the moment you step into our calm and quiet courtyard oasis.
It's the perfect place to start your day with a cup of New Orleans coffee and the newspaper before you venture out to explore the city. We are conveniently located in the heart of the New Orleans French Quarter serving as a direct outlet to all the best music, entertainment, shopping and dining New Orleans has to offer. When you're done with your French Quarter fun, come back to Bienville House to relax on a lounge chair by our salt water pool with a classic New Orleans cocktail. It's the perfect way to wind down after a day of adventure!
If you've been to the Big Easy before, you are probably aware that New Orleans courtyards are some of the most beautiful courtyards in the country, and ours provides a relaxing oasis in the heart of the busy and exciting French Quarter. Our courtyard can be seen from the balcony of multiple suites within our hotel. So next time you book with us, be sure to ask for a room overlooking our courtyard and take a little time to relax and enjoy all the beauty the Bienville House Hotel has to offer!